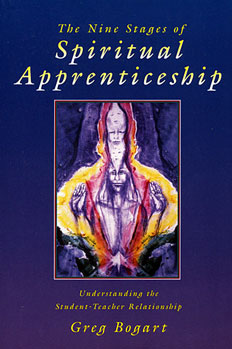 The Nine Stages of Spiritual Apprenticeship
250 pages, paperback
ISBN: 0-9639068-5-2
$17.95
This book explores how a spiritual guide can aid a seeker on the Path. Greg Bogart describes choosing a teacher, receiving initiation, following a path of training and discipleship, and undergoing tests of faith and tests of character. The author describes spiritual direction and the practices of guru yoga in Hindu and Tibetan Buddhist Yoga, Sufism, and Jewish and Christian mysticism, and experiences of enlightenment and illumination that may result. The book also explores separating from a spiritual teacher, finding the teacher within, and the path of teaching others. If you are searching for a teacher, The Nine Stages of Spiritual Apprenticeship provides a map of what to expect. If you already have a teacher, this book will help you avoid the pitfalls. If you had a teacher and had a difficult experience, this book can help you heal. Of interest to practitioners of all traditions.
---
Reviews
"Sooner or later every spiritual seeker needs expert guidance on the path. Those who have arrived at this critical juncture will find this book clarifying, balanced, highly readable, and above all helpful. This is the best book available on spiritual apprenticeship and the psychological issues involved."
—Georg Feuerstein, Ph.D., author of Shambhala Encyclopedia of Yoga
"Greg Bogart has done an excellent job of describing the experience of self-unfoldment under the guidance of a guru or spiritual guide. His book is a clear and detailed map of the process--including its difficulties, dangers, joys, and ultimate value. Highly recommended."
—John White, author of What Is Enlightenment?
"Psychotherapist and yogi Greg Bogart elucidates the path of the spiritual apprentice. Drawing on his experiences with a number of teachers, notably Swami Muktananda, Bogart explores the subtleties of this special bond. This is a clear, reasoned exposition that will help seekers of all persuasions."
—Yoga Journal, March/April 1998
"Bogart calls upon his expertise as a psychotherapist and his experience as a mature spiritual seeker to discuss issues that are crucial for Western students of inner pathways. The chapter on 'Separating From a Spiritual Teacher' explores the issue of the fallen guru from a particularly clear and heartfelt perspective. This is a must-read for all spiritual seekers and their teachers."
—Judith Lasater, Ph.D., author of Relax and Renew: Restful Yoga for Stressful Times
"Greg Bogart explains how an aspirant is transformed in a teacher's enlightening presence and expands in awareness toward absolute freedom. This insightful book will become a new classic of contemporary spiritual literature."
—Master Charles, originator, Synchronicity High-Tech Meditation
"Spiritual Apprenticeship is an in-depth, well-documented and passionately written study of the guru-disciple relationship that is sensitive both to traditional views and to the unique concerns of seekers in the West today. In this time of either naive guru worship on one hand, or vengeful guru-bashing on the other, this book provides a welcome voice of balance and clarity."
—Dr. David Frawley, author of Ayurveda and the Mind
"This is a thorough, well-rounded, and clearly written book on a very delicate subject. Jewish, Christian, Islamic, Hindu, and Buddhist paths all include some form of devotion to a teacher or guru. Bogart shares his own experiences along this path, and offers insightful examples from the lives of well-known students and teachers. This is a wonderful examination of the nature of spiritual mentoring."
—NAPRA Review
"Greg Bogart's Spiritual Apprenticeship explores the relationship between aspiring seekers and a variety of mentors, gurus, and guides who inspire and beckon us to the heights of human evolution. Solid, admirable, and wise, this book contains valuable, even essential, words of wisdom for those who have a spiritual teacher in their past, present, or future."
—Dan Millman, author of Way of the Peaceful Warrior
Order by telephone with your Visa or Mastercard.
Call 510-412-0486, 8 am – 8 pm Pacific Time.
Or purchase now using PayPal