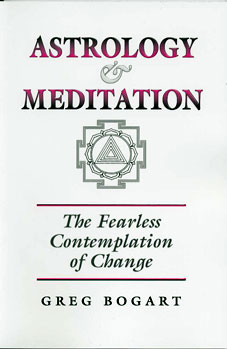 Astrology and Meditation:
The Fearless Contemplation
of Change
xx pages, paperback
ISBN 1902405129
$20.00
Astrology and Meditation explores the idea that the most powerful astrological technique is a quiet, meditative mind. The book presents astrology as a form of active meditation where we contemplate whatever is arising with expectancy, receptivity, and conscious use of will to shape what unfolds. The author presents meditations on the spiritual lessons of the planets and zodiacal signs, and, with the plentiful use of case histories, describes the technique of symbol amplification, which enables us to unfold the deepest meanings of chart symbols. The book ends with a discussion of astrology as a spiritual practice, a training for perfection that can instill qualities such as discernment, humor, steadiness in times of suffering, and an expanded capacity to love.
---
Reviews of this Book
Greg Bogart's brilliant text is a ray of divine light that teaches us to use astrology with consciousness and intention for our highest spiritual evolution.
—Dennis Harness, Ph.D., President, American College of Vedic Astrology
---
This is the real astrology. People who learn astrology should first learn this. Greg Bogart shows that people who study astrology need to have a spiritual practice, to meditate. They need to connect to their innate spirituality, and to a higher power. Only then can astrology help them, not otherwise.
—Chakrapani Ullal, renowned Vedic Astrologer
---
A Review of Astrology and Meditation, January 31, 2005 on Amazon.com.
—Reviewed by Stuart Walker
If you want to know how astrological interpretation really works, if you desire to be able to read a chart in depth, then you must read this book, as it is one of the best books ever written about astrology.
I have practiced astrology for many years, and really don't read lots of books on it anymore. Most of them are written for beginners, or are sun sign books, which really don't explain this discipline at all. Some are poorly written, or are extremely judgmental, or they repeat what others have already said, none of which I am interested in.
Yet a few out there are jewels. There are the great teachings of Rudhyar, perhaps the greatest astrologer since Ptolemy; he has transformed astrology forever. I still refer to his books when trying to unravel a tough planetary symbol. And there are others that I am not going to discuss here. Believe me, Astrology & Meditation deserves to be on that must-read list. It was introduced quietly into the world (in 2002), and it is still almost unknown. Some books are born that way. Someday everyone will know about it, because excellence always rises to the top.
Greg Bogart is a philosopher, a psychotherapist, a psychologist, a university professor, a practitioner of many spiritual esoteric disciplines, including astrology. He pours all of his knowledge, acquired from years of study and practice, into this book. Moreover, he pours his heart into it too. That means that it is an experiential book: If you read and study its chapters, I mean really live in it as one must do with any profound book, then you will come to know more about astrology than ever before, and you will, if reading charts, see far deeper into any chart that you examine. You will give better readings than ever gave in your life. When books of heart fill our soul, that's just how it works.
If you are just beginning to study astrology, I recommend that you purchase this book, and read it. Even if you do not understand some of the technical terms like solar arcs, or progressions, or yods, extended definitions are just a few clicks away on the internet. If I had discovered a book like Astrology & Meditation, when I was beginning my study of astrology, it would have saved me years of having to plough through bad books, faulty interpretations, erroneous judgments that I would later have to eradicate, often painfully.
Even as an advanced astrologer, I find it a wonderful read. Sometimes it is the quotes from high spiritual teachers to which I return repeatedly to study, for these passages are filled with wisdom; at other times I like to re-read his interpretations--they are extremely valuable, and I find that I agree with them almost always, and they give me a different way of seeing things.
If you are employing astrology for healing, for growth, for counseling, or just studying it out of a general philosophical interest, you should get this book, read it, and absorb it. Then read it again, and keep it with you for the rest of your life.
---
In his new book Greg Bogart invites us to join him in a reverential and deeply felt contemplation of astrology. As the author puts it, 'If your life doesn't change, why study astrology?' It is not an exaggeration to say that this inspiring book from one of today's most respected astrology practitioners really can change your life.
—Paul Newman, review in the Astrological Journal (UK).
---
This elegant book would be appealing and accessible to astrological novices looking for a spiritual approach to their interpretations. More advanced astrologers who are engaged in a meditative practice will be inspired by Greg Bogart's book as well. The book has many moving stories that demonstrate how the author guided his clients during stormy challenges in their lives.
—Mary Plumb, review in The Mountain Astrologer magazine
---
In his inspiring new book, Astrology and Meditation, Greg Bogart explores the essential meanings of planets and signs with a strong spiritual perspective. Bogart views astrology as a form of active meditation, a spiritual practice that can lead to a deeper understanding of the evolution of one's soul. Bogart invites us to meditate on the spiritual lessons of the signs and planets. This may seem like elementary astrology but it is in fact essential astrology. Bogart explains the use of symbol amplification to enrich one's understanding of astrological symbols. Case histories throughout the book illuminate spiritual lessons that may be learned from various planetary pictures. The text is enhanced by quotes from teachers such as Sri Aurobindo, Dane Rudhyar, and the Dalai Lama. Rudhyar was one of Bogart's teachers and his humanistic-transpersonal approach to astrology and personal growth comes through in Bogart's work. Astrology and Meditation ends with two must-read appendices: "Understanding the Jupiter-Saturn cycle" and "The Twelve Yogas of the Zodiac." Don't ignore the copious footnotes and the book's conclusion. There is a lot of valuable information to be found there.
—Leda Blumberg, review in Considerations Magazine